I'm no photographer, but I do love taking pictures! My photoblog chronicles my adventures since 2007, including travels, wanderings, weddings, and delicious meals.
---
This project is an interactive family tree of the key members of the Medici Dynasty, featuring portraits and biographies of the men who became dukes, princes and popes, and the women who became queens.
---
This site is dedicated to my beloved Boston, and one of its most beautiful neighborhoods, the Back Bay. This is an interactive map of the Back Bay's most beautiful buildings, including the Boston Public Library, Trinity Church, and the Hancock Tower, with links to more pictures and more information.
---
This website is a place for me to share my photos of Roman Churches from my visits to the Eternal City. Rome has hundreds of churches, each one distinctly and uniquely beautiful, and these are a few of my favorite photos from 20 of Rome's most spectacular churches.
---
Stories in Art is a searchable database of paintings and sculptures that tell ancient stories. This project was created as a means to explore works of art that are linked by the stories they depict, and to illuminate the work of art by retelling the story. This projects features over 500 famous works of art that depict stories from the Old Testament and Greek myths.
---
This project explores the beautiful intricate scenes of Lorenzo Ghiberti's Gates of Paradise. Visitors to the site can view identifications, descriptions and details of the biblical scenes and figures on the famous gilded doors of Florence's baptistry.
---
Hundreds of figures and scenes are frescoed on the ceiling and walls of the Sistine Chapel in Vatican City. The scenes narrate the story of Genesis, the life of Christ and the life of Moses. This interactive page identifies each fresco in the Sistine Chapel.
---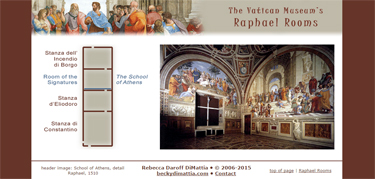 The Vatican Museum's Raphael Rooms
Raphael's finest works are the frescos in the private apartment of Pope Julius II, now a part of the Vatican Museums known as 'The Raphael Rooms'. This project is a guided tour of the beautiful and complex frescos, including identifications the figures in Raphael's most famous works, 'The School of Athens' and 'The Disputation over the Sacraments'.
---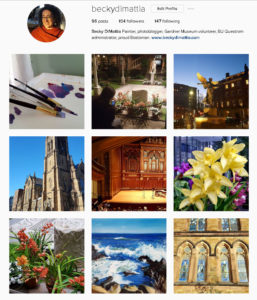 As an avid photoblogger since 2007, sometimes I take a pretty decent photo. I put the good ones on my photoblog, and the best ones on Instagram, along with some photos to document some of my painting process.
---
Visit my boards on Pinterest (an image sharing website): Beloved Boston, Must See in Person, Modern Takes on Old Paintings, Stories in Art and Royal Portraits.